AstraZeneca halts work on Motavizumab drug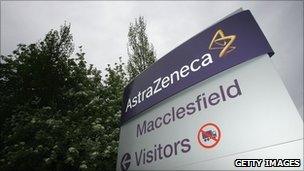 AstraZeneca has warned that it will have to write-down $445m (£286m) after discontinuing a key development programme for one of its newest drugs.
The UK group has cancelled further development of its antibody Motavizumab for the prevention of a respiratory virus.
It said it would take the $445m charge in its fourth quarter 2010 results.
The news comes just four days after US regulators further delayed approval of the company's heart drug Brilinta.
AstraZeneca said it would no longer develop Motavizumab for the prevention of respiratory syncytial virus (RSV), and as a result was withdrawing its licence application to the US Food and Drug Administration.
However, it added that it would continue to develop Motavizumab for other treatments of RSV.
Related Internet Links
The BBC is not responsible for the content of external sites.