UK government borrowing hits record high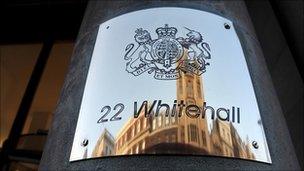 The amount of new public sector borrowing hit a fresh record high in November, according to the Office for National Statistics (ONS).
Net borrowing totalled £23.3bn last month, up from £17.4bn a year ago, and more than analysts had expected.
The borrowing figure was pushed higher by increased spending on health, defence and the EU.
The latest figures are likely to raise concerns about the government's efforts to reduce the UK's budget deficit.
While the government spent 10.8% more in November than the same month last year, its VAT receipts fell 0.1%.
A Treasury spokesman said: "November's borrowing figures show why the government has had to take decisive action to take Britain out of the financial danger zone.
"These outturns are also in line with the Office of Budget Responsibility's latest forecast for borrowing to fall by almost £10bn this year compared to last, and for tax receipts to increase by over 7% year-on-year."
The ONS said public sector net debt now stood at 58% of UK GDP.
Total public sector net borrowing for the financial year to date has reached £104.4bn, although this is down slightly from the £105.1bn total for the same period last year.
However, many analysts predict that the government could exceed its annual borrowing target of £148.5bn for the current financial year to 31 March.
Philip Shaw, economist at asset management group Investec, said the latest official figures were "extremely disappointing".
He added: "November's numbers seem to be a result of very strong spending and weak receipts growth, and it is very difficult to judge whether this is just a rogue figure, or whether it represents something more fundamental.
"Our guess is that it's probably the former, but the seeds of doubt have been sown to a certain extent."
The government is now continuing with a range of austerity measures to reduce the UK's public deficit.
These include a £81bn package of public sector spending cuts and a VAT increase to 20% from 17.5% on 4 January.
Jonathan Loynes, chief economist at Capital Economics, said: "Overall, there is nothing here to weaken the government's determination to see through its austerity programme.
"But we continue to doubt that the economy will weather the coming fiscal storm as well as it hopes."
The most recent official figures showed that the UK economy grew by 0.8% between July and September.
However, a number of organisations have recently lowered their forecasts for UK economic growth in 2011.
The CBI business group now expects growth of 0.2% in the first quarter of next year, down from 0.3%, as public sector job losses and higher-than-expected inflation slow the economic recovery.
Meanwhile, the British Chambers of Commerce (BCC) said it now predicts the economy will expand 1.9% in 2011, down from the 2.2% growth it predicted in September.
The BCC blamed the eurozone debt crisis, austerity cuts, weak housing market and forthcoming VAT rise.
The Office for Budget Responsibility has said it expects economic growth of 2.1% next year, compared with an earlier forecast of 2.3%.
Related Internet Links
The BBC is not responsible for the content of external sites.