Has Heathrow's reputation been damaged?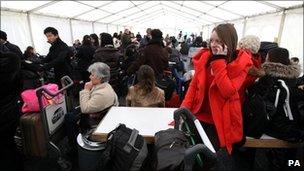 As thousands of passengers are still camped out at Heathrow, much anger is turning towards the company responsible for running the airport, BAA.
The airport operator has faced criticism ranging from being too slow to get Heathrow back up and running - the snow stopped on Saturday but one of its two runways only reopened on Tuesday evening - to a lack of information to customers, to not enough investment in dealing with snow and ice.
The company's financial performance has been improving in the past year, but it is still loss-making. In its latest financial results it reported a loss of £196.2m in the nine months to September.
BAA itself is owned by a consortium led by the Spanish company Ferrovial, which bought it in 2006 in a £10.3bn deal.
Ferrovial borrowed heavily to finance the deal and there were some fears that consequently there would be a lack of investment in BAA airports.
Earlier this year, BAA published an investment programme of £5.1bn for Heathrow over five years, of which £500,000 was invested in snow and ice-fighting technology this year, with another £3m planned for the next four years.
By comparison, reports suggest that Gatwick Airport, which is half the size of Heathrow and was sold by BAA last year, spent £1m on snow and ice this year and plans to spend another £7m next year.
Heathrow's "snow fleet" is made up of 69 vehicles; Gatwick's is a reported 150.
BAA chief executive Colin Matthews admitted they had been "too optimistic" on Saturday.
"We were doing extremely well up to the middle of Saturday, then we were hit by snow which we have not seen in Heathrow certainly in my lifetime," he said.
"It took us longer than we expected to take the snow from under the aircraft, to clear the stands and we are really sorry for the disruption that resulted from that.
The Department for Transport told BBC News that the government has offered army assistance to help clear the snow at Heathrow but BAA said the help was not needed.
David Learmount, operations and safety editor for industry magazine Flight Global, says calls for further investment need to be put into context.
Other countries that invest more, like those in Scandinavia, have to deal with six-month winters, whereas the UK generally does not, he says.
"We had some of this last year, not as much as we're getting now, but two winters does not make a climate change," he told the BBC.
"So when the government and the airports meet on this issue to try and discuss future policy and whether we do throw a lot of dollars at this issue, we've got to work out whether we actually are dealing with climate change.
"Even if we did throw dollars at it, our weather is different to the weather that the Scandinavians get. The equipment that they use would not win against the kind of weather that we had," he added.
As for passenger care at the airport, under EU regulations, it is the airlines' responsibility to provide overnight accommodation for them if needed during periods of disruption.
Regulation of airports themselves appears to be limited. The Civil Aviation Authority's remit covers safety, but it does not have the power to demand airports stay open or closed, or to fine them for not providing a service.
"Airport operators and airlines are responsible for operational decisions about when it is and is not safe to operate flights," a CAA spokesman said.
The three largest UK airports - Heathrow, Gatwick and Stansted - are also subject to economic regulation, but again the CAA admits that its role is "very narrowly defined".
Regulators' provisions for service quality tend to focus on matters such as ensuring queuing times are not too long, that there is enough seating and that toilets are clean.
The airports publish their performance on a monthly basis and the CAA audits its performance annually. If they fail to meet CAA standards, the operator would have to pay a rebate to airlines that use that airport.
However, in reality, Heathrow has largely met its targets and has only had to pay just over £2m so far this financial year.
BAA also owns Stansted, Glasgow, Edinburgh, Aberdeen and Southampton airports in the UK, as well as Naples in Italy.
But while its other airports are running, albeit with some cancellations and delays, it has been the chaos at Heathrow that has caught the headlines.
The operator itself has promised a thorough investigation into how Heathrow has handled the freezing weather, with boss Colin Matthews promising to "crawl over every aspect of these last few days".
However, some commentators believe it has received an unfair amount of criticism.
"We're seeing other airports around the world having problems," says John Strickland, director of airline consultancy JLS Consulting. "And you've got to remember Heathrow is bigger than a lot of its rivals, so any disruption is escalated."
Indeed, EU Transport Commissioner Siim Kallas has condemned the air travel disruption across Europe, saying that airports should "get serious" about better planning for bad weather.
And he warned that the Commission could bring in laws on "minimum service requirements" at airports - including the provision of proper facilities and equipment to tackle severe winter conditions.
Even when Heathrow does get back to full speed, will its reputation also be fully restored?
"BAA have delivered, but too late. It took them three days to say anything and that is the problem," says crisis communications consultant John Huntley, asking why if they could open one runway, they couldn't open the other.
"It's embarrassing and I don't think it's doing its reputation any good."
The lack of communication is something that has angered passengers such as Victoria Gardiner, who was delayed for more than two days at the airport with her husband and 17-month-old daughter.
"The customer service to Singapore Airlines is in Mumbai and they know absolutely no information," she told BBC News.
"This morning has been such an eye-opener. The emotional cost of this is way beyond anything [insurance cover] could make up for."
But John Strickland says the company can recover.
"Provided they can be seen to come out of this with a clear focus on learning lessons, it won't ultimately have a long-term effect," he says.
He points to the disastrous opening of Terminal 5 in 2008, which received worldwide coverage but has not had any long-lasting effect, because a big improvement has since been made.
The biggest problem facing Heathrow is the fact that it runs at 99% capacity, which will not go away even if it improves facilities at its terminals.
He adds that although Heathrow's importance as a key global hub might appear to give it a monopoly in London, and to some extent the UK, there is no room for complacency.
"There are other airports that may be smaller but have more available capacity or are adding to their capacity, like Frankfurt, Paris, and Amsterdam."
Flying to alternative airports would only be an option for those travellers taking connecting flights though. If you are flying to London, Heathrow would probably remain your main option.
But as John Huntley says: "People will go to Heathrow because they have to, rather than they choose to."
Related Internet Links
The BBC is not responsible for the content of external sites.