Small firms 'need financial help due to cold weather'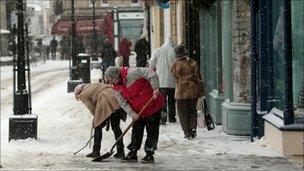 The Federation of Small Businesses (FSB) has called for temporary measures to help the UK's small firms through the continuing cold snap.
It wants the government, banks and local authorities to give small firms a financial breathing space.
The FSB is asking HM Revenue & Customs (HMRC) to extend the Time to Pay scheme. Under Time to Pay, firms can delay their tax payments.
HMRC said it would "continue to offer a sympathetic ear to businesses".
"A Time to Pay arrangement is agreed on a case-by-case basis, the average length is three months, and there are no upper or lower time limits for a Time to Pay arrangement," it added.
The FSA says its members are typically given a six-month extension, and it would like this to be extended to seven.
Regarding banks, the FSA is asking them to allow small firms to delay loan repayments and extend business overdrafts.
The FSA also wants councils to grant hardship relief funds and temporarily reduce business rate bills for those small companies in financial difficulty.
John Walker, the Federation of Small Businesses' national chairman, said: "Small businesses were banking on a good Christmas to make up for a bad year and the prospect of more bad news in 2011.
"Many shops and restaurants have taken on additional seasonal staff to cope with the anticipated demand of the Christmas season, but last weekend saw a drop in footfall of up to 30%, leaving businesses with increased overheads and falling trade."
Mr Walker added that without action, there could be "a wave of bankruptcies and shop closures in 2011", especially after factoring in VAT rising to 20% from 17.5% on 4 January.
Royal Bank of Scotland, which also owns NatWest, said it would respond directly to the FSB's call for help.
Peter Ibbetson, chairman for small business at NatWest and RBS, said: "Cashflow is critical for small businesses at Christmas, so severe weather can hit their balance sheets hard.
"We're offering to help by extending overdrafts, offering loan repayment holidays or finance to replace any damaged assets."
Related Internet Links
The BBC is not responsible for the content of external sites.