Ernst & Young sued in US over Lehman collapse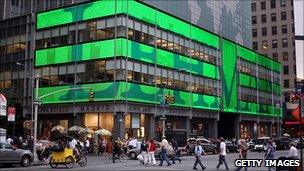 Accountancy giant Ernst & Young has been sued by New York's attorney general over its role in the collapse of Lehman Brothers during the financial crisis in 2008.
Andrew Cuomo claimed the firm was complicit in a "massive accounting fraud" perpetrated by Lehman.
Ernst & Young said that it would "vigorously defend" itself.
"There is no factual or legal basis for a claim to be brought against an auditor in this context," it said.
"Lehman's audited financial statements clearly portrayed Lehman as a highly leveraged entity operating in a risky and volatile industry."
Mr Cuomo takes a different view.
"At a time when it was critical for investors to make informed decisions as to whether to keep or to buy Lehman, Ernst & Young assisted Lehman in defrauding the public," the lawsuit clams.
The case centres on Lehman's use of an accountancy practice known as Repo 105, which involves temporarily removing money from the balance sheet to give the impression of greater financial strength.
The lawsuit claims that as much as $50bn (£32bn) was parked temporarily overseas.
As Lehman's auditors, Mr Cuomo asserts, Ernst & Young should not have approved the accounts, knowing that the practice had been used so widely.
Observers suggested the two parties may settle out of court, rather than enter a long and expensive court battle.
"It tends to be a lot less expensive for both parties to resolve it through settling and getting it behind them," said Bruce Pounder at US firm Leveraged Logic.
Lehman Brothers was the first major bank to collapse as part of the global financial crisis in September 2008.
Related Internet Links
The BBC is not responsible for the content of external sites.