DP World sells Australian stake to Citi Infrastructure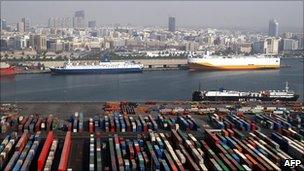 Dubai World's ports operating arm, DP World, has sold a 75% stake in its Australian ports to Citi Infrastructure for $1.5bn (£1bn).
DP World will use the cash raised to reduce its debt levels.
Under the terms of the deal, DP World will continue to operate the five ports, in Sydney, Melbourne, Brisbane, Adelaide and Fremantle.
Dubai World, the centre piece of the emirate's economy, asked creditors for a delay in debt repayments last year.
It was bailed-out by the Dubai government earlier this year, but signed up the last remaining creditor to a debt restructuring programme in October.
Despite its need to cut debts, DP World said it had not instigated the Australian sale.
"This was not done because we went to the market looking for partners. They approached us," said chief executive Mohammed Sharaf.
"This is part of our strategy of continued growth in emerging markets without increasing overall leverage in our business."
DP World is one of the biggest ports operators in the world.
It is seen as one of the more healthy parts of Dubai World, and had about $8bn in outstanding debt at the end of June 2010.
Dubai World manages investments for the Emirate of Dubai, including DP World, foreign investments and major real estate developments such as the famous palm islands.
Related Internet Links
The BBC is not responsible for the content of external sites.