Veolia wins Bavarian train contract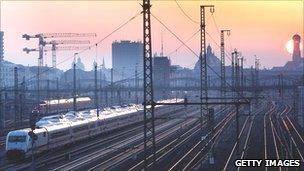 French utility and transport group Veolia has won a 1bn-euro ($1.3bn, £850m) 12-year contract to operate trains in the German state of Bavaria.
The firm will run three passenger routes between Munich, Salzburg and Kufstein - crossing the Alpine border into Austria - from December 2013.
The news helped push Veolia's shares up 0.8%, making it the biggest climber on a quiet morning of trading in Paris.
The company has said it is targeting growth in Germany and the Netherlands.
"New direct links will be put in place and the trains will be upgraded and made more comfortable," he promised.
Veolia Transport already operates one Bavarian route between Munich and Holzkirchen, but this is the first time it will be running trains that cross the border into neighbouring Austria.
The contract tender marks a departure for the Bavarian state railway company.
The electrified rail network to be taken on by Veolia is currently run by the German national railway company, Deutsche Bahn.
"And railway services in E-Netz Rosenheim will become faster and more modern."
Related Internet Links
The BBC is not responsible for the content of external sites.