UK economic growth revised down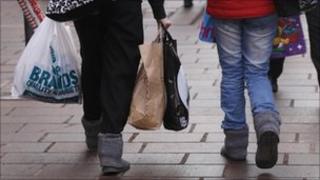 The UK economy grew less than previously estimated between July and September, revised figures have shown.
The Office for National Statistics said UK GDP grew 0.7% in the third quarter, down from its earlier estimate of 0.8%.
It also cut the growth figure for the April-to-June quarter to 1.1% from 1.2%, and the first quarter growth figure to 0.3% from 0.4%.
It blamed the revisions on weaker growth in the construction, business services and manufacturing sectors.
The year-on-year growth estimate was also cut, with the ONS saying that GDP in the third quarter had grown by 2.7% compared with the same point last year, down from the previous estimate of 2.8%.
VAT impact
The latest official figures are likely to increase concerns that the rate of economic growth will slow further in 2011 as a result of the impact of the government's £85bn spending cuts, and VAT rising to 20% from 17.5% on 4 January.
A number of organisations have already recently lowered their forecasts for UK economic growth in 2011.
The CBI business group now expects growth of 0.2% in the first quarter of next year, down from 0.3%.
The British Chambers of Commerce (BCC) is predicting the economy will expand by 1.9% in 2011, but this is down from the 2.2% growth it forecast in September.
The BCC has also blamed the eurozone debt crisis and the weak housing market.
The Office for Budget Responsibility has said it expects economic growth of 2.1% next year, compared with an earlier forecast of 2.3%.
Investec analyst Philip Shaw said he was not surprised by the downward revisions to the economic growth figures.
He added: "It doesn't change the big picture that the economy was doing pretty well over the middle of the year.
"Taken over the year as a whole, GDP growth is still, will almost certainly be, above most expectations at the start of this year."
The latest figures from the ONS came as minutes from this month's meeting of the Bank of England's Monetary Policy Committee (MPC) showed that just one of its nine members - Andrew Sentance - was continuing to call for a rise in UK interest rates.
Mr Sentance again voted for rates to go up to 0.75% from 0.5%, where they have now remained for 21 consecutive months.
Another MPC member, Adam Posen, voted for the programme of quantitative easing to be expanded by £50bn, the third month in a row he has done so.
Howard Archer, an analyst at IHS Global Insight, said the downward revision to the growth figures for both the second and third quarters of 2010 - and concerns about expansion in 2011 - would mean the MPC keeping rates at 0.5% "until at least late-2011 and very possibly into 2012".