US economic growth revised up to 2.6% for third quarter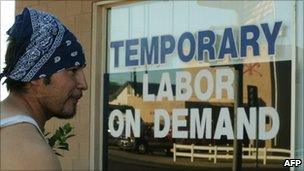 The US economy grew at an annualised pace of 2.6% in the third quarter of 2010, slightly faster than the previous estimate of 2.5%, figures have shown.
However, the rate was lower than expectations, with some analysts expecting a figure closer to 3%.
Earlier this month, the US Federal Reserve said the US recovery was still too slow to bring down the country's high level of unemployment.
Separately, figures showed home sales continuing to recover.
Sales of previously-owned homes rose by 5.6% in November compared with the previous month, to a seasonally adjusted annual rate of 4.68 million units last month, according the National Association of Realtors.
However, the increase was less than analysts had hoped for, and overall sales were down 27.9% from a year ago.
The GDP data from the Commerce Department showed that the third-quarter growth rate was revised up after an increase in the pace of businesses building up inventories.
However, this increase was offset by a downward revision to consumer spending, which grew at an annual pace of 2.4% in the quarter, down from a previous estimate of 2.8%.
Consumer spending is watched closely as it accounts for about 70% of the US economy's total economic output.
"Clearly the economy continues to improve and grow but at a slow, modest pace and that is restraining employment growth and a recovery in the housing market," said Tim Ghriskey, chief investment officer at Solaris Asset Management.
Figures released earlier this month showed the unemployment rate in the US rising to 9.8%, its highest rate since April.
High unemployment, along with a weak housing market, is undermining economic growth.
Last month, the Fed said it would pump $600bn (£390bn) into the economy.
The policy, dubbed QE2 because it is the second round of quantitative easing, is designed to boost the economy's fragile recovery.
The government has also done its part to stimulate growth, by extending tax cuts enacted by President George W Bush that were set to expire this year.
However, some analysts argue that there may be some reason for cheer in the current quarter.
"More recent data suggests we're seeing reasonably healthy retail sales growth, pretty healthy investment spending [and] some growth in employment," said Zach Pandl at Normura Securities in New York.
Related Internet Links
The BBC is not responsible for the content of external sites.