US wants trade talks on China wind power 'subsidies'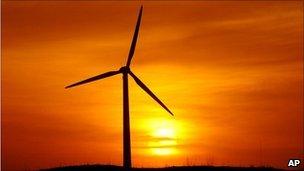 The US says China is illegally subsidising the production of wind power equipment and has asked the World Trade Organisation (WTO) for talks.
It estimates China has given several hundred million dollars in questionable government grants to its companies which has distorted trade and made it tougher for American exporters.
It is the latest in a series of trade disputes between the two countries.
In 2008, China set up a "Special Fund for Wind Power Manufacturing."
US wind turbine manufacturers, including the giant General Electric and United Technologies want to sell their wares to China, which is potentially the biggest wind turbine market in the world.
Its Trade Representative, Ron Kirk, said in a statement: "Import substitution subsidies are particularly harmful and inherently trade distorting, which is why they are expressly prohibited under WTO rules."
The announcement follows a filing in September by the United Steelworkers Union (USW) which listed a number of industries it accused China of subsidising or otherwise distorting trade from non-nationals.
It included a complaint about China's restrictions on rare earth minerals, which are used in production of wind turbines, electric vehicles, solar cells and energy efficient lighting.
The trade representative announced no decision on that, but spokeswoman Nefeterius McPherson said the United States was "very concerned about China's export restraints on rare earth materials, antimony and tungsten" and could still file a case on that at the WTO.
China has made some moves to open up the wind turbine market to outside countries.
It no longer requires foreign companies bidding for large-scale wind power projects in China to have had experience in China.
Related Internet Links
The BBC is not responsible for the content of external sites.