Letters for Santa: How do companies cope with Christmas?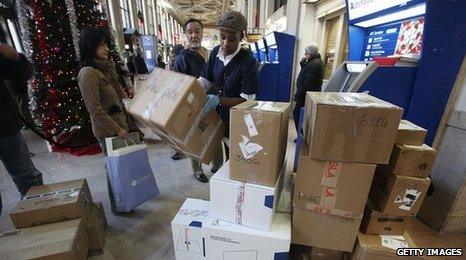 For many children, Christmas would not be the same without sitting down and writing a letter to Santa Claus.
In the US, those letters are posted in the curved blue post-boxes that can be found on most street corners throughout the country.
They make their way to a sorting plant, where they are scanned by sorting machines that recognise handwriting.
Once the machines read the words 'Santa Claus' or 'North Pole', it puts the letter to one side. All those letters are sent to a mail sorting facility in Alaska. None are thrown away.
"The men and women in Alaska work with Santa at the North Pole to make sure those letters get answered," says Jim Martin.
Mr Martin works at the Morgan plant, which is a 1.2m sq ft monolith based in the heart of Manhattan and the largest mail processing facility in the United States.
In Alaska, all the stamps are cancelled to show that they have been received at the North Pole, and every child gets a reply.
For most businesses, people start to wind down towards the tail-end of December.
But for many companies, the holiday period puts a huge strain on their firms and tests their capacity to keep providing services, such as energy firms who must plan for increases in electricity and gas as most of Europe, the US and Japan becomes colder.
BAA, which runs Heathrow airport and several other regional UK airports, was asked to comment on how they cope with increased travel during the holidays but did not reply.
They, of course, have been dealing with the cold snap that hit the UK and closed most of its airports for several days over the last week.
Large retailers also have to anticipate demand during the holidays, by allocating extra staff and hiring extra space to store the goods to be sold.
So how do companies predict sudden shifts in demand?
The UK's National Health Service (NHS) faces an increase in patients every winter. In 2000, the NHS in Norfolk had to deal with a backlog of work due to the winter flu over Christmas and New Year's.
It took an average of nine months, in 2001, to work through the backlog created by a three-week period of cancellations in the winter because of the extra emergency workload.
The cost of not putting in extra beds during those three weeks was calculated at more than £750m.
To prevent this from happening again, the Norfolk and Norwich University Hospitals Trust developed a tool called Forecaster.
The tool looks at bed use across the Trust and uses historical data, weather forecasts and flu cases to try to anticipate how many beds the hospitals will need.
The Met Office and NHS Scotland developed Met Forecaster as well, which works to anticipate quick changes in demand due to the weather; for example, predicting an increase in respiratory problems during a heat wave.
The US postal system serves as a case study in dealing with winter demand; the Postal Service's busiest mailing day of the year is 20 December, with more than 800 million pieces of mail. That is a 40% increase on the usual daily volume of 559 million pieces of mail.
Mr Martin, who is a support manager at the Morgan plant, says that his facility in New York gets 36 million pieces of mail alone in the first three weeks of December.
To make it work, they begin preparing months ahead.
"We start in August," he says. "We pull out all the data from the previous year."
Their machines are monitored, and Mr Martin can see how much mail goes through on an hourly basis. The sorting machines go through around 33,000 pieces of mail each hour.
The Morgan plant also has to deal with the fact that other plants will get overwhelmed and it will pick up the slack, so it has brought in 10 additional people to help.
In 2009, there was a 10% reduction in mail volumes at the plant during the period from the previous year. In 2010, so far, there has been a 7-8% drop in the mail from last year.
"We though we would see a big drop, of around 15-20% because of the economy, and we weren't right," Mr Martin says.
Despite the trend towards emails and texts, nothing beats a card at Christmas.
Related Internet Links
The BBC is not responsible for the content of external sites.