Mortgage lending at 20-month low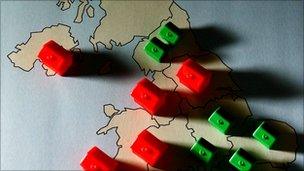 The number of mortgages approved for house purchases by the major UK banks fell to a 20-month low in November, figures have shown.
Some 29,991 of these home loans were approved during the month, the British Bankers' Association (BBA) said.
The statistics offer more evidence that the mortgage market has shown little life towards the end of the year.
Meanwhile, consumers' debt repayments on credit cards and overdrafts continued to outstrip new borrowing.
The BBA figures show that net lending by the major banks, which takes out redemptions and repayments, stood at £1.46bn in November.
This was half the level seen in November last year and the lowest figure since August 1999.
The low level of mortgage approvals for house purchases also gives a clue that the number of home loans being taken out in the coming months is likely to remain low.
First-time buyers have struggled to secure new loans, as lenders restrict lending to the safest of borrowers, and are cautious about buying new homes.
However, the BBA pointed out that the number of people remortgaging had picked up. There were 27,045 remortgage approvals in November, which was nearly 4,000 higher than the average of the previous six months.
"Remortgaging was strong in November as borrowers chose to replace maturing fixed-term mortgages," said BBA statistics director David Dooks.
The figures chime with the views of the Council of Mortgage Lenders (CML) published earlier in the week.
The group, which represents lenders, predicted that the relative stagnation in new lending was likely to continue in the new year.
Howard Archer, chief UK and European economist at IHS Global Insight, said: "Housing market activity remains stuck in the doldrums, which seems highly likely to maintain downward pressure on prices."
Spending on credit cards was at least matched by repayments in November, the figures also show.
This was alongside a lack of appetite for personal loans and overdrafts at a time of uncertainty over jobs and the economy.
The BBA data shows that repayments outstripped new borrowing by £172m on all unsecured credit in November.
"Demand for unsecured lending has been weak some time now. This is symptomatic of people being very cautious about household finances and working within their budget," said Mr Dooks.
"Credit cards are merely being used as a form of payment. People are not wanting to extend themselves and take on more borrowing than they can afford."
People saved £4.6bn in November, the BBA data shows, to have a total of £626.4bn set aside, nearly 6% more than a year ago.
Related Internet Links
The BBC is not responsible for the content of external sites.