Allied Irish Banks' shares fall 20% on fresh bail-out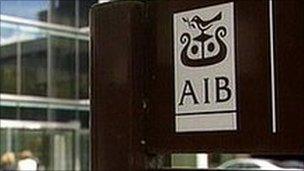 Shares in Allied Irish Banks (AIB) have plunged almost 20% as the Irish government gained the right to nationalise the bank.
The Irish High Court granted the government permission to pump a further 3.7bn euros ($4.8bn; £3.1bn) into the troubled bank.
AIB has already received 3.5bn euros of Irish taxpayers' money as part of a bail-out package agreed last year.
The Irish government itself agreed an 85bn-euro rescue package last month.
The money is to come from the European Union and the International Monetary Fund.
About 35bn of the total has been set aside to prop up the Republic's ailing banking system.
The 3.7bn-euro capital injection gives the government a 49% stake in AIB, but that percentage will soar once planned sell-offs of some bank divisions are completed early next year.
"The order allows [the government] to provide capital so as to ensure AIB meets its year-end capital requirement as set by the central bank," said Finance Minister Brian Lenihan.
"This capital is essential to allow AIB to fulfil its role in supporting the Irish economy."
Earlier this month, Mr Lenihan blocked 40m euros of bonuses due to be paid out to AIB executives.
AIB will be the fourth Irish bank to be nationalised by the government.
Its share price has fallen from almost 24 euros two years ago to its current price of just above 33 cents.
Irish banks were hit particularly hard during the financial crisis because of a severe property crash in the Republic.
Related Internet Links
The BBC is not responsible for the content of external sites.