Christmas travel: Airlines 'ignoring passenger rights'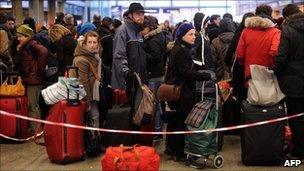 Some airlines' behaviour towards passengers during the snow-disrupted Christmas getaway was 'unacceptable', according to a regulator.
The Civil Aviation Authority (CAA) found a number of cases when airlines had failed to meet their obligations to passengers during the disruption.
Passengers are often entitled to refreshments, meals and accommodation when flights are weather-affected.
Passengers were misled about their rights in some cases, the CAA said.
Flights at the UK's busiest airports are generally back to normal after five days of disruption, although more cold weather could affect travel in the coming days.
During the disruption many passengers ended up sleeping in terminal buildings or making their own travel arrangements.
Under European regulations, they were entitled to various rights, even though the snow and sub-zero temperatures were beyond the control of the airlines.
These passenger rights include:
A refund within seven days if a flight is cancelled, or
Re-routing to their final destination at the earliest opportunity or at a later date
Meals and refreshments if they choose to wait for the next available flight
Hotel accommodation if this means an overnight stay
Two telephone calls, telex or fax messages, or e-mails for those waiting for the next available flight
Passengers who are unable to find out about a new flight and make alternative arrangements are being advised to keep all receipts and claim reasonable expenses on their return.
People flying into the European Union from overseas are covered by the rules, as long as they are travelling on a European airline. So are those on a non-EU carrier leaving from an EU airport.
The CAA said it was writing to some airlines to remind them of their obligations.
"The European Union has put in place regulations to protect people in situations such as this, which not only guarantees people will be looked after, but requires airlines to let people know what their rights are," said Deirdre Hutton, who chairs the CAA.
"This has not been happening in all cases and it is important that passengers are not being misled.
"The fact that some airlines are making real efforts to look after their passengers shows that it can be done and there is no excuse for providing misleading information on what passengers are entitled to."
If people have complaints about their treatment, they should contact the airline concerned to resolve a problem or complaint, the CAA said.
If flights were part of a holiday package, people should contact their tour operator. If they are unhappy with the tour operator's response, they should contact Consumer Direct.
The CAA has the power to fine airlines which fail to stick to the rules.
Related Internet Links
The BBC is not responsible for the content of external sites.