Halifax customers' pay delayed by technical problem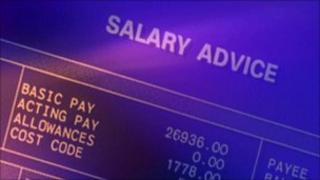 A technical problem has delayed transactions for Halifax bank customers, including those waiting for wages to enter their account.
The bank, now part of the Lloyds Banking Group, said the fault in processing debits and credits for Halifax and Bank of Scotland customers had now been fixed.
Some customers contacted the BBC after this month's pay failed to show in their accounts at midnight.
The bank has apologised for the fault.
Festive concern
Some customers were particularly worried as they were waiting for their wages to enter their account before heading out for some last-minute Christmas shopping.
One Halifax customer, Caroline Kilbourne of Leicester, spotted her pay had not entered her account.
"Salaries are normally showing just after midnight, today no sign," she wrote on Facebook at the time.
"So I need ideas for a pressie for [husband] Ade with 76p."
The bank said the fault was quickly found and corrected.
"We have already corrected the problem and all delayed transactions have now been processed. This only affected transactions that were due to be processed through the night," said a Halifax spokesman.
"We worked to fix the problem swiftly. We are extremely sorry for the inconvenience this will have caused customers early this morning."
The fault came a day after Spanish bank Santander said up to 35,000 of its UK customers could have received other peoples' details on bank statements following a printing error.