Credit card borrowers to be offered more leniency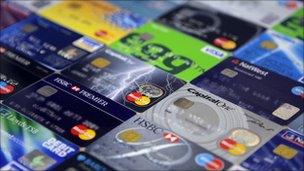 Credit card users will have a better chance of avoiding being surprised by sudden interest rate increases when a new set of rules is adopted.
The more lenient regime, which starts in January, will allow customers to pay off their credit card debts faster.
It could also mean consumers skirt around some of the traps which can pull them into excessive borrowing.
The new rules are being brought in voluntarily, after a government demand for fairer treatment of customers.
The changes should help people who find themselves in a similar position to Simon Fisher, an architectural consultant from Surrey.
He told the BBC how two years ago he had seen his interest rate nearly double to 29.9%, after he had had trouble making repayments. His provider, MBNA, gave him a month's notice with no option but to accept the rise.
"We are an easy target. They make it harder to pay the payments so they get more interest over a longer period of time," he said.
"It is simple mathematics but it is ruthless banking."
From next month, card providers will have to give 60 days' notice of an interest rate hike. Customers like Mr Fisher will have the right to reject the increase, hand in their cards and pay off their debt at the old rate.
"We are now putting the customer in the driving seat," said Melanie Johnson, a former Labour minister who now chairs the UK Cards Association.
"We are not recognising that we treated people unfairly before. We are improving things and I think that is something that we look to do continuously."
Credit card companies estimate that the relaxation of the rules will cost them £600m a year. The main benefit will go to card users who go into the red by choosing not to pay off the balance on their accounts in full every month.
One major change is that repayments will be used to pay off the most expensive debt first. Many customers have borrowings on different rates: some on 0% deals and other funds incurring standard interest.
In the past, many providers have used money sent in to pay off the cheapest debt, allowing them to carry on collecting interest at the highest rates.
There will be statements every year showing customers how much they have spent, what they have paid back and how much they have been charged. Card companies will also have to give them advice on getting out of debt.
Another major complaint in recent years is that the companies raise people's credit limits unnecessarily, tempting them to spend more. But from January, they will have to do a credit check to be sure that the customer can afford a higher limit.
None of these changes has come in time to help Simon Fisher. He is stuck with the old rules and has paid more than £3,000 in interest and charges, without reducing his accumulated debt.
"It is too little too late. A lot of people have suffered financially. We are on the back end of a vicious recession and people are feeling the bite," he said.
Mr Fisher has complained that he never received the letter telling him that his credit card interest rate was to be raised.
In response, MBNA told the BBC that the letter had been sent and that they had received acknowledgement of another letter sent to the same address the following year. And the company added that it was fully committed to the new industry agreement.
"If we write to customers to increase their interest rates in 2011, we will give them 60 days' advance notice, plus a reminder letter 30 days before any increase takes effect," a spokesman for the lender said.
"This will mean customers have 60 days to opt out of the increase, in which case we can close the account and the customer can pay back the money at their existing interest rates."
One fear is that card companies will be tempted to increase charges to try to claw back some of the £600m they stand to lose each year. But Melanie Johnson denied this would happen.
"There is no industry plan to claw money back. We are keen to give customers more control over their credit cards and the ability to manage their money better," she said.
Related Internet Links
The BBC is not responsible for the content of external sites.