Retailers report last-gasp Christmas rush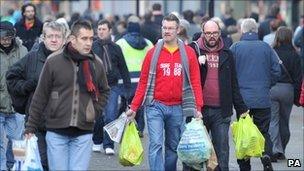 UK retailers have reported more brisk trade as consumers, previously hampered by bad weather, took their last chance to buy for Christmas.
Stores were expecting panic-buying after the big freeze led many to postpone shopping trips.
But early indications suggested that Thursday - which had longer opening hours - was a busier day.
Some retailers have started sales with others promising big reductions on Christmas Day via their websites.
Analysts at Interactive Media in Retail Group (IMRG) suggested that nearly five million shoppers would spend more than £150m online on Saturday.
Provisional figures from Experian have suggested that the number of people visiting stores on Monday, Tuesday and Wednesday this week had been about 10% lower than in 2010.
However anecdotal evidence suggested a marked pick-up on Thursday which John Lewis described as "very busy" and which the Brent Cross shopping centre in north London said had been its best pre-Christmas trading day since it opened in 1976.
The failure of goods ordered online to arrive as a result of distribution chaos caused by the weather may have been a factor in large Christmas Eve turnouts said Robert Hall, director of Milton Keynes mall thecentre:mk.
"Considering the impact of the weather earlier this week, it is no surprise that shoppers are out in their droves and spending well," he said.
"Traditionally Christmas Eve shopping is about food, but this year we are expecting today to be another record day of footfall growth and spending across all the retail brands, particularly as many retailers have opted to start their sales earlier than expected."
A survey by Sainsbury's Credit Cards suggested that about four in ten UK adults would be doing some shopping on Friday.
"The extreme weather conditions this December have wreaked havoc with people's shopping plans, which means that some of us will be dashing around the shops later than perhaps hoped," said the firm's head, Stuart McKeggie.
Meanwhile Capital Shopping Centres, which has interests in 13 regional shopping centres, said it was seeing a "very busy day" with demand high for last-minute gifts.
And at Birmingham's Bullring complex about 140,000 shoppers were expected - after about 200,000 visited on Thursday.
Centre management admitted the chilly temperatures meant that footfall had been down on previous years but added it thought sales would be busy over Boxing Day and Bank Holiday Monday.
And managers at the White Rose Shopping Centre, outside Leeds, said shopper numbers were up with high demand for chocolates, perfume and underwear.
"It's been a case of the usual last-minute panic - particularly from men," said the centre's director Peter Cook.