Post office closures 'growing trend', says CWU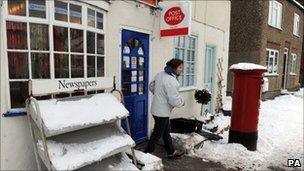 There has been a "growing trend" to close UK post offices during 2010, the Communication Workers Union has said.
The union said more than 1,000 post offices had shut or been put up for sale this year - with some not featuring on official closure lists.
It added that more closures loomed if the government continued with plans to privatise the Royal Mail.
But the Royal Mail denied there was a programme of closures and said there was always "an element of turnover".
In a statement, the union suggested that this year, 162 post offices were listed as "long-term temporary closures", with more than 900 put up for sale "as part of a growing trend of closures".
Many were likely to stay closed indefinitely, with those that did reopen offering a diminished service, the CWU added.
The CWU warned that those which were up for sale could be shut down using the "temporary closure loophole".
A Post Office spokesman said: "The government has already said there is no programme of closures. The Post Office has the largest network in the UK and there will always be an element of turnover.
"The figures quoted by the CWU simply reflect the number of temporary closures and the number of branches that change hands. The important thing to remember is that the majority of branches reopen when there is a temporary closure.
"In fact, more than 200 branches change hands every three months and historically, up to 10% of the network of more than 11,500 branches will change ownership annually."
In October, Business Secretary Vince Cable said that private buyers would be allowed to own up to 90% of Royal Mail, while the Post Office could be mutualised.
A new independent firm will be formed to run sorting and delivery operations.
This would lead to business being taken away from post offices, the CWU said, adding this meant it was going to be hard to encourage those who run sub-post offices to continue, or to recruit other people to keep the businesses running.
"Post Offices rely on work generated by mails business and most would be unsustainable if this was removed," said the union's general secretary Billy Hayes.
"With uncertainty hanging over Royal Mail and the post office network, it's no surprise that buyers are hard to find.
"The government must change its approach or face the decimation of our cherished post office network. Who's going to buy a business which stands to lose a substantial part of its income?"
Related Internet Links
The BBC is not responsible for the content of external sites.