Pay freeze or cut for many in 2011, says BCC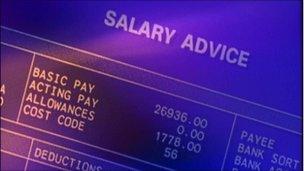 More than half of UK companies plan to freeze or cut their employees' pay in 2011, according to a survey by the British Chambers of Commerce (BCC).
While 45% of firms surveyed said they would give their staff a pay rise, 49% said they would freeze salaries, while 6% said they planned to reduce wages.
A BCC spokesman said the response showed companies were taking a "pragmatic approach to pay settlements in a tough environment".
The BCC survey covered 450 businesses.
Firms taking part were also asked about the impact of government spending cuts on their businesses.
Some 38% of companies said the cuts would have an impact on their profitability, but only 13% expected to lay off workers as a result.
Just over a quarter of companies (26%) did not see the cuts as detrimental to their business, while 18% said they would delay investment plans as a result of the cuts.
"British business has proved over the past two years that it will adopt a pragmatic approach to pay settlements in a tough environment," said the BCC's director of policy and external affairs, Dr Adam Marshall.
"Despite a number of businesses suggesting that pay will be frozen, almost as many are suggesting wage rises in 2011.
"Equally, many businesses say they will deal with reductions in public spending by taking a hit on the bottom line, rather than by reducing staff numbers.
"This continues a trend we first saw during the recession: firms doing whatever they can to retain staff, even when conditions are more challenging."
Related Internet Links
The BBC is not responsible for the content of external sites.