'Tax freedom' day delayed by VAT rise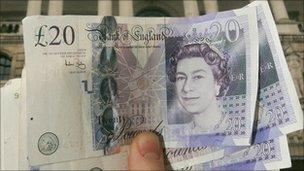 UK workers will take three days longer this year to earn enough money to cover their taxes, according to the think tank, the Adam Smith Institute.
It says this is almost entirely due to the rise in VAT from 17.5% to 20%, which comes into effect on 4 January.
The Adam Smith Institute predicts what it calls "tax freedom day" will be 30 May 2011.
It calculates this by splitting annual tax payments from wages and front-loading the tax element.
The last time that tax bills were such a high proportion of wages was four years ago, in 2007, when "tax freedom day" was not reached until June.
The VAT rise was designed to increase the tax take.
Tom Clougherty, the Institute's executive director, said Britons were "desperately" overtaxed.
"The fact that we spend almost five months working for the state and only seven months working for ourselves and our families is a shocking indictment of big, wasteful government.
"As well as hitting every household in the country, the VAT hike is going to dent consumer confidence and put a dampener on our economic recovery - as the Office of Budget Responsibility has already pointed out."
The Adam Smith Institute is a body that argues for smaller government and lower taxes.
Its director, Dr Eamonn Butler, said: "In the long term, they need to fundamentally overhaul the entire tax system. Lower, simpler, flatter taxes would be fairer for individuals, and better for the economy."
Chancellor George Osborne has said the VAT hike is "not temporary", but a structural change to the tax system, which was needed to deal with the deficit.
He has said taxes will be reduced only if there is a surplus in the public finances - something the Treasury does not expect during this Parliament.
Related Internet Links
The BBC is not responsible for the content of external sites.