Prince's Trust: Young unemployed 'face mental problems'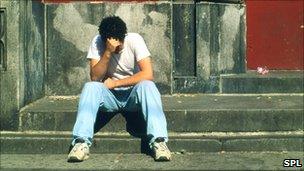 Unemployment is causing heightened levels of mental health problems among young people, according to a report by the Prince's Trust charity.
Its survey of 2,170 people aged 16 to 25 revealed almost half had problems such as self-harm and insomnia.
The Prince's Trust said unemployment presents a "real and frightening mental health problem for young people".
The Department for Work and Pensions said a new scheme would give "tailored support" to help people return to work.
Some 943,000 people aged 16 to 24 are unemployed in the UK.
It is one of the highest jobless figures for that group since records began in 1992.
The study, called the Prince's Trust Macquarie Youth Index, found young people were twice as likely to self-harm or suffer panic attacks if they had been jobless for a year.
About one in six respondents to the survey said being out of work was as stressful as a family breakdown, and one in eight said unemployment gave them nightmares.
Half of young people seeking work said visits to a job centre made them feel ashamed, and more than half said that job-searching had left them feeling disillusioned or desperate.
The study showed young people who were not in education, employment or training were less happy across all areas of their lives.
Martina Milburn, the charity's chief executive, said the longer young people were out of work, "the greater the risk".
The Department for Work and Pensions said the government was "focused on restoring the economy and supporting private sector jobs growth".
It said: "From next year our new Work Programme will give people the tailored support they need to move them into these jobs and stay there."
Related Internet Links
The BBC is not responsible for the content of external sites.