FSA fines treble to £89m in 2010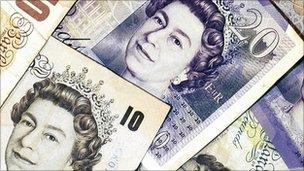 Fines handed down by the UK city regulator almost tripled during 2010 from the year earlier to £89m, figures compiled by the Financial Times show.
The year saw the Financial Services Authority (FSA) impose the largest fines in its history on JP Morgan and Goldman Sachs.
It also banned 60 people from working in the financial sector.
In a shake-up of regulation, the FSA will be replaced by the Consumer Protection and Markets Authority.
The figure for penalties compares with £35m in 2009.
However, fines in the UK are considerably lower than in the US, where big banking groups regularly pay more than $500m (£323m) between them each year.
JP Morgan was fined £33.3m in June - a UK record - after failing to keep client money in separate accounts.
Meanwhile, Goldman agreed to pay £17.5m after the investment bank did not tell the FSA that it was being investigated by US authorities.
Not all are supportive of the FSA's policy of levying large fines.
"The regulator continues to be obsessed with how its enforcement cases will play out in the media," Nathan Willmot, a partner at law firm Berwin Leighton Paisner, told the FT.
Related Internet Links
The BBC is not responsible for the content of external sites.