New Year Eve's means 'no party for half of us'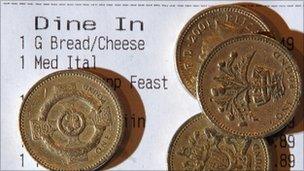 Fears of hard times ahead mean half of us will stay at home on New Year's Eve to save money, a survey suggests.
National Savings and Investment's (NS&I) annual Lifestyle survey found 48% of those quizzed planned a low-key night at home on 31 December.
And the study of the 2,002 respondents found many of those who do go out will be cost-conscious.
About half will go to a friend's house, with 44% saying they will stay in their local area to save money on travel.
According to NS&I, only 15% of the population plan to splash out, with cost playing no role in deciding which clubs, bars and restaurants to visit.
The organisation, which has 26 million savers, says that younger adults are most likely to have a modest celebration.
Some 60% of people aged 16-34 said they would be going to a friend's house to celebrate, while more than half of 25-34 year olds claimed they would spend New Year's Eve at home this year.
Related Internet Links
The BBC is not responsible for the content of external sites.