Spain minimum wage to rise, says Zapatero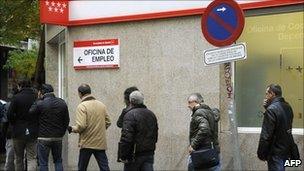 Spain's minimum wage will rise by 1.3% in 2011, Prime Minister Jose Luis Rodriguez Zapatero has announced.
The increase will take monthly minimum pay to 641.50 euros (£551; $851).
Mr Zapatero said state pensions would go up by at least the same percentage - and more in the case of those receiving the smallest pensions.
He told a news conference the government was making "a special effort at solidarity" despite Spain's economic crisis.
The proposed rise in the minimum wage is well below inflation, which is currently 2.3% a year in Spain.
The prime minister predicted that Spain would go from recession to recovery in 2011 after "a difficult year" in 2010.
This view has already been endorsed by the Organisation for Economic Co-operation and Development (OECD), which said earlier this month that Spain's economy would grow by 0.9% in 2011 and by 1.8% in 2012.
The country's unemployment, which at almost 20% is the highest in the EU, would "drop slightly" to 19.1% next year and to 17.4% in 2012, the OECD said.
The body also reiterated its forecast that the government's budget deficit would be 9.2% this year, 6.3% in 2011 and 4.4% in 2012.
The Spanish government is currently able to borrow money from the international money markets in order to fund its debts, although at much higher rates than before the eurozone debt crisis began.
Related Internet Links
The BBC is not responsible for the content of external sites.