House prices rose slightly during 2010 says lender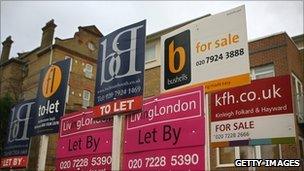 House prices ended the year barely higher than they started, according to the latest survey from the Nationwide building society.
It says prices rose by 0.4% in December, leaving them also 0.4% up on a year ago.
It means the average UK home now costs just under £163,000.
The Nationwide forecasts that house prices will continue to drift down in the first half of 2011, as they have been doing for the past few months.
"Despite December's increase, house prices have fallen in four out of the last six months and it would be premature to suggest that the recent downward trend has been broken on the basis of one month's figures," said the building society's chief economist Martin Gahbauer.
"However, the December figures do underscore the fact the current downtrend is only very modest, particularly when seen in comparison to the second half of 2008," he added.
Many commentators expect house prices to fall over the course of 2011 - some more than others.
While some estate agents and other property market businesses have forecast falls of up to 5% this coming year, other commentators and economists have suggested they could drop by more, possibly 10%.
A key issue in 2010 was that potential sellers started to outnumber would-be buyers, putting downward pressure on prices, particularly in the second half of the year.
That seems unlikely to change, given the current rationing of mortgage funds that is still being imposed by lenders.
Mr Gahbauer said there were still too few buyers chasing too many properties.
"There is little to indicate that buyer demand is set to pick up materially from current levels," he said.
"On balance, a relatively stable picture, with the possibility of a small price decline, appears the most likely outcome for 2011 at this stage."
The picture of prices declining over the past few months was reinforced by the latest Land Registry survey for England and Wales, published on Thursday.
This showed that in November, property prices fell by 0.6%, leaving them 2.2% higher than a year ago.
That was the third month in a row in which prices had fallen and took the average house price in England and Wales to £164,773.
"The annual house price growth rate has continued to decline for the sixth month in a row," the Land Registry explained.
"This is the smallest growth seen in 12 months," it added.
Related Internet Links
The BBC is not responsible for the content of external sites.