'Pressure' needed on firms to boost women directors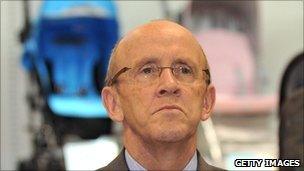 The ex-bank boss in charge of increasing the number of women on company boards says more pressure needs to be put on firms.
However, Lord Davies said it was "not likely" he would recommend quotas for female directors.
Writing for the Guardian, he said he was "not convinced" this was the best way forward.
Only 12% of leading companies' board members are female. Just a handful of top firms have female chief executives.
Some companies have said that while they were not unwilling to employ women at the top level, they had been unable to find any with the right skills - a view dismissed by Lord Davies.
The CBI is in favour of introducing a percentage target for the number of women in company boardrooms, but it does not believe this should be a legal requirement or carry sanctions for those missing targets.
A World Economic Forum study found that Norway had the highest percentage of women in top jobs, after it legislated that 40% of those on the board of public companies must be female.
But the counter-argument runs that those women are then seen as a token presence who have not earned their place on merit.
"I am not convinced that they are the right method to encourage progress. Female executives need to be recognised for the talent and skills that they possess."
Lord Davies, the former chief executive of Standard Chartered, has suggested that making the recruitment process for senior appointments more transparent could be a better option than quotas.
And he added that proposals his review group have considered include increasing the transparency of appointments through nominations committees, a code of best practice for head-hunters, and the creation of an academy for female executives.
"There needs to be more pressure on companies to open up their recruitment process and to bring women up the ranks from within the business," Lord Davies said.
"Companies could be required to provide board internships to give senior staff the experience of what it means to be on a board."
Related Internet Links
The BBC is not responsible for the content of external sites.