Copper enters 2011 at record high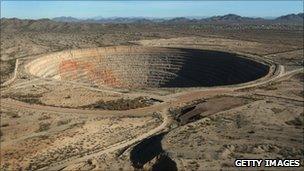 The price of copper has hit a new all-time high, rounding off a year in which industrial metals rebounded strongly.
It peaked at $9,631.75 per metric tonne on the London Metal Exchange, its highest ever level, before falling back slightly.
The metal has risen 30% in value this year, with half of that rise coming in the last month.
The rally has been driven by the global economic recovery and most countries holding low stockpiles.
Demand for copper and other industrial metals is outstripping supply, as industrial output by the emerging markets economies surges ahead of their pre-recession levels.
Manufacturing in Europe - and even in the US according to recent data - has also picked up, the latest data suggests.
In most parts of the world, future copper prices suggest there will be further near-term rises in the metal's value.
Global copper inventories are down by about a third this year, and traders say that with supplies so tight, the risk is that prices could rise more rapidly if the recovery gathers pace.
The major exception to this trend is China, which is sitting on a large stockpile that it built up during 2009, but is expected to be used up during the coming months.
Prices in dollars have also been supported by the relative weakness of the US currency, compared with the euro and particularly the Chinese yuan.
Copper is not the only industrial metal to do well this year. The price of nickel is up by a quarter, while tin has risen more than 55% in 2010.
And other commodities have also been climbing in what has been a particularly strong year, though most prices still remain well short of levels seen during the commodities surge of 2007-08 that helped precipitate the global recession.
Energy prices, led by a 13% rise this year in the price of oil, have hit new post-recession highs, also driven by the global recovery, as well as the oil cartel Opec's apparent unwillingness to increase supply.
Meanwhile, precious metals have shot up amid fears over the debts and loose monetary policies in Europe and the US.
Palladium - a precious metal that is also used industrially in the production of car exhaust catalytic converters - rose 94% this year.
"It is still a positive picture for metals next year," said Darren Heathcote, head of trading at Investec in Sydney.
"There is sufficient demand from investment perspective to maintain a relatively bullish trend, in gold in particular."
Other commodities which are also well up include wheat, which rose 44% this year, as well as corn and soybean.
The long-term trend of rising demand for these crops is part of the reason for such strong price growth, but so too were short-term supply problems this year due to poor weather conditions, including a drought that forced Russia to suspend wheat exports.