Union 'angry' over sick pay lapse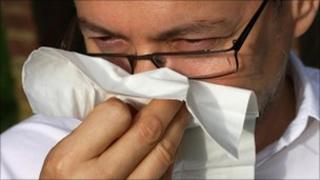 Sick pay should be given to all public sector workers, including those hired by outside contractors, a union says.
Unison found some public service contractors were denying the benefit to cleaning and catering staff in schools and hospitals - even those only on the minimum wage.
This failure to pay sick staff left it "angry and frustrated", Unison added.
Many councils have said the benefit is one of those being reviewed as part of spending cuts.
The government has said it will cut £1.2bn from the amount it gives to local governments between 2011 and 2015, as part of its Spending Review.
'Struggle'
"It cannot be right that... massive multinational companies can make huge profits but still cheat workers out of basic terms like sick pay," said the union's general secretary Dave Prentis.
"Cleaners and dinner ladies in schools and hospitals are paid on or just above the minimum wage, and struggle to make ends meet.
"Many also struggle into work when they are sick, risking their own health and the health of people around them.
"This is particularly true in hospitals where vulnerable patients may be put at risk by catching infections.
"We want local authorities, hospitals and contractors to do the right thing and make a New Year resolution to pay all their staff sick pay."
Good practice
Unison added that the situation would get worse after last month's government confirmation that a code aimed at preventing a two-tier workforce developing in the public sector was to be scrapped
The code was designed to prevent private contractors making savings by driving down staff terms and conditions - ensuring that companies who took over public sector contracts provided pay and conditions for new staff broadly comparable with that of the former public sector staff transferred over to them.
Cabinet Office Minister Francis Maude said new principles of good employment practice would replace the code.