Singapore economy sees record expansion in 2010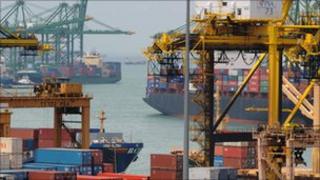 Singapore's economy expanded at a record rate in 2010, driven by a surge in manufacturing activity.
The economy grew by 14.7% last year, rebounding strongly from a 1.3% contraction the previous year.
Singapore's growth surpasses the previous record of 13.8% set in 1970, although Prime Minister Lee Hsien Loong said the pace would slow in 2011.
The economy expanded by 12.5% in the fourth quarter, helped by a 28.2% growth in the manufacturing sector.
"At 14.7%, Singapore is the fastest growing Asian economy in 2010," said Alvin Liew, an economist with Standard Chartered Bank.
According to figures from the International Monetary Fund, only Qatar had faster growth, at 16%.
Singapore's GDP, valued at 247.33bn Singapore dollars ($191bn; £123.7bn) in 2009, is very dependent on external trade and exposed to changes in the global economy.
Its GDP shrank 1.3% in 2009 because of the global downturn when demand from the United States and other developed economies collapsed.
The services sector, which accounts for 65% of Singapore's GDP, grew 8.8% in the fourth quarter of 2010.