Pension not offered by 'two-thirds of small firms'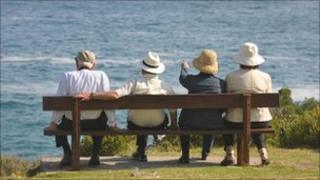 Two-thirds of small firms do not offer their employees a pension, while many that do are not providing sufficient contributions, research suggests.
Most defined contribution pension schemes are failing to keep pace with the contributions necessary to cover longer life expectancy, the Association of Consulting Actuaries (ACA) said.
All companies will have to offer staff a pension by 2016.
But the ACA said small firms expect 35% of employees to opt out of the schemes.
The group said defined contribution pension schemes run by small companies are attracting combined employer and employee contributions of less than 8% of earnings.
By October 2017, the government has stipulated that contributions must be at least 8%, with a minimum of 3% from the employer, plus 4% from the employee, with the remaining 1% coming from tax relief.
But the ACA said contributions needed to rise well above this minimum level.
"Pension contributions into most schemes reporting to this survey need to double on average to 15% of earnings if reasonable retirement incomes are to be achieved," said the group's chairman, Stuart Southall.
'Financial incentives'
Of those firms that did not offer a pension scheme, 96% said the reason was cost.
Employers also said that of those staff that did not join the company pension scheme, 84% did not do so because of cost.
"The smaller firms covered by this survey - so important to the UK economy in terms of employment and innovation - seem particularly needful of financial incentives to kick-start sufficient levels of pension saving," Mr Southall concluded.
Reaction to the report has centred on the new auto-enrolment into pension scheme to be phased in during the coming years.
"Our research shows that most employers will maintain or increase their levels of pension contributions and most employees expect to stay in a workplace scheme if they are automatically enrolled," said a spokeswoman for the Department for Work and Pensions.
"We are doing all we can to ease the burden on employers and the vast majority of small firms will not have to begin enrolling employees until at least August 2014.
"The National Employment Savings Trust (Nest) will provide a simple low-cost scheme for all employers, but will be particularly helpful for smaller firms."
Brendan Barber, general secretary of the TUC, said: "Most people in the UK work for small businesses so the finding that two-thirds are not providing staff pension schemes shows just how dire our savings crisis is, and why we need auto-enrolled pensions.
"It has taken many years to forge a consensus over a pension scheme that provides a basic safety net for staff. Rowing back now would be a disaster for the millions of workers today who are not saving for their retirement."
The ACA surveyed 404 small firms, with 250 or less employees.