Barnes & Noble festive sales led by Nook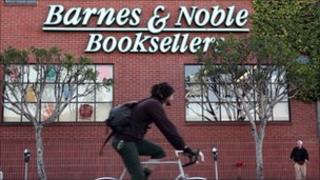 Barnes & Noble has reported a rise in sales over the Christmas period, led by the popularity of its Nook electronic book reader.
The company, the largest US bookseller, said like-for-like sales - which exclude new store openings - rose 9.7% in the nine weeks to 1 January.
This figure, which compares with a year earlier, was higher than Barnes & Noble's projections for the key period.
It comes after rival Borders saw two executives resign on Monday.
Borders, which last week was forced to announce that it would have to delay payments to some publishers in order to preserve funds, said Thomas Carney had stood down as executive vice president, while Scott Laverty had resigned as chief information officer.
Analysts say Borders has been hampered by not currently having its own electronic book reader to compete with Amazon's Kindle.
Barnes & Noble said the Nook was now its best-selling single item.