FSB calls for VAT rise to be reviewed once deficit cut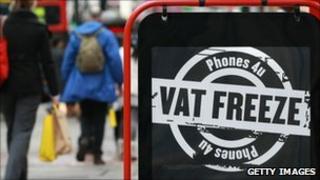 VAT should be returned to 17.5% once the UK's public deficit has been "significantly reduced", the Federation of Small Businesses (FSB) has said.
Despite Chancellor George Osborne insisting that the increase to 20% is permanent, the FSB is calling for the rise to be reviewed in the future.
Its comments came after a survey of 1,600 of its members found that 71% expect the rise to harm their business.
The FSB also wants the business VAT threshold to be increased.
At present, firms have to pay VAT if their annual taxable turnover is more than £70,000.
The FSB wants this to be increased to £90,000, saying such a move has the potential to create up to 35,000 new jobs.
It said: "Small firms will be hit hard by the rise in VAT, as unlike big businesses, they can't absorb the increase.
"This will mean that small firms will have to pass the full cost on to customers, reduce stock levels or find cost savings elsewhere - potentially costing jobs and undermining the government's private sector-led recovery."
The FSB said its survey also showed that 52% of its members expected to have to increase prices above the VAT rise, while 45% predict a fall in turnover, and 36% foresee they will lose customers as a result.
John Walker, FSB national chairman, said: "Small businesses have had a tough time in 2010, especially towards the end of the year. The busy Christmas period was hampered by heavy snowfall and severe weather.
"If the government truly believes that the private sector is going to strengthen the recovery we need to see action.
"Increasing the threshold at which companies have to register for VAT will put almost £900m back in the pockets of small businesses.
"Without this small firms will struggle to bounce back as the spending cuts start to bite."