Easyjet orders 15 Airbus A320 planes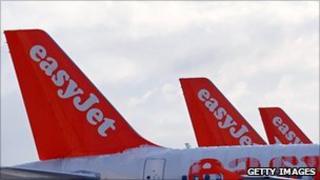 Budget airline Easyjet has confirmed orders for 15 new Airbus A320s worth $1.1bn (£710m) for delivery in 2012-14.
The carrier has also taken up options to buy another 33 of the aircraft.
The moves cement Easyjet's relationship with the European manufacturer - who agreed to sell the planes at an undisclosed discount - after switching from US rival Boeing in 2002.
The airline now has confirmed 62 orders for A320s, with options to buy a further 73, but no orders with Boeing.
Only eight of the company's current fleet of 193 planes were manufactured by Boeing.
The A320 orders are set to increase the fleet to 220 aircraft by September 2013.
"Easyjet continues to maintain an open and productive dialogue with Boeing on the development of current and future programmes," said the company in announcing the latest Airbus purchases.
Easyjet said that both Airbus and the engine manufacturer selected for the orders had provided "substantial confidential price concessions".
"A central feature of the agreement is the flexibility it gives Easyjet to vary the growth rate in its capacity to reflect economic conditions and market opportunities," said chief executive Carolyn McCall.
Easyjet saw profits almost triple last year to £154m, thanks in part to an 8% rise in passenger numbers.