Mortgage approvals in slight rise, says Bank of England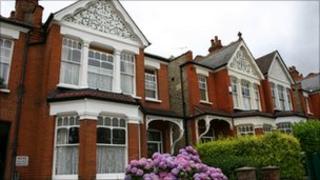 Approvals for home loans - notably for people remortgaging their properties - picked up slightly in November, Bank of England figures show.
The number of mortgages approved for house purchases stood at 48,019 in November, a marginal rise on the previous month.
Approvals for remortgaging were up by nearly 4,000 on the previous month to 34,262 in November.
Consumers' repayments of unsecured debts outstripped new borrowing.
The figures showed that £121m more was paid back on credit cards, overdrafts and personal loans than was taken out in new borrowing.
Lending
The slight rise in mortgage approvals for house purchases still left the figure below the average of the previous six months - of 48,145.
This showed that mortgage lending remained muted at the end of 2010.
A lack of demand among first-time buyers remains a key factor in the slow mortgage market, although figures from the financial information service Moneyfacts show that the availability of home loans for those offering a 15% deposit increased slightly at the end of 2010.
Last month, the British Bankers' Association (BBA) said that home loan approvals for house purchases by the major UK banks had fallen to a 20-month low in November.
The latest Bank of England figures provide a more comprehensive picture across the industry.
The sets of figures from the BBA and the Bank of England both showed that remortgaging had picked up as borrowers replaced maturing fixed-rate deals.
Some lenders have suggested this could also show that some borrowers were expecting interest rates to rise.
"The sharp increase in the number of remortgages shows that consumers are becoming far more wary of potential interest rate rises given the growing inflation threat. Increasingly, the belief is that Bank rate will rise this year and not next," said Brian Murphy, head of lending at mortgage broker, the Mortgage Advice Bureau.
Savers
Savers with building societies and other mutuals increased their savings for the first time since April.
In November, they saved £432m more than they took out, figures from the Building Societies' Association (BSA) showed.
Low interest rates, as well as competition from banks and National Savings and Investments, have led savers with mutuals to run down their accounts in most months during the past two years.
Net savings have increased on only four occasions since the start of 2009.
"Savings flows can be quite variable on a month-to-month basis and though it is pleasing to see balances held at mutuals increase in November, it remains to be seen whether this is the beginning of a sustained trend," said Adrian Coles, director general of the BSA.
"However, 2011 looks set to be another challenging year for retail deposit takers as household finances remain tight and the Bank rate is likely to be held at its record low for much of the year."