BP shares jump 6% on takeover reports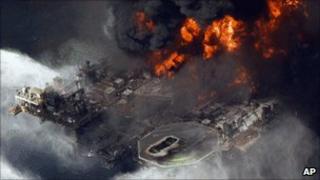 BP shares have surged almost 6% after reports that rival Royal Dutch Shell considered a takeover bid following the Gulf of Mexico oil spill.
Speculation that BP may not need to tap all of its $20bn (£13bn) compensation fund also helped to push the company's shares up by 27 pence to 493p.
The Daily Mail newspaper reported that Shell mulled a bid for BP when its shares slumped because of the spill.
The share price rise comes despite a sharp fall in the price of oil.
US light crude fell by $2.17, or 2.4%, to $89.38 a barrel in Tuesday trading, while London Brent dropped by $1.31 to $93.53 a barrel.
Oil prices have hit two-year highs in recent days, partly because of increased demand due to the cold weather in the US and Europe and continuing optimism about the global recovery.
Dividend return
The Mail reported that Shell decided against a bid for BP as it was unwilling to risk taking responsibility for the potentially unlimited liabilities from the spill.
However, Shell management did agree to bid for BP if another oil giant, such as the US's Exxon Mobil, launched a takeover attempt, the report said.
Reports also suggest that Kenneth Feinberg, the US lawyer responsible for BP's compensation fund, suggested that $10bn might be enough to pay the victims of the spill.
"These reports may give investors reason to believe that a dividend could be brought back sooner rather than later, and that could have quite a positive impact on the share price," said David Hart at Westhouse Securities.
BP was forced to suspend dividend payments last year following pressure from the US government.
The Deepwater Horizon drilling rig explosion in the Gulf in April killed 11 workers and spilled millions of barrels of oil over several months.
The oil leak became the worst environmental disaster in US history.