Asda chairman Andy Bond steps down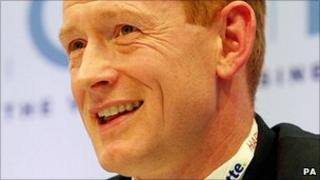 Andy Bond has left his post as chairman of supermarket Asda and will now focus on finalising parent group Wal-Mart's takeover of South Africa's Massmart.
Asda said this deal should be tied up by the end of March, at which point Mr Bond will leave Wal-Mart altogether.
Mr Bond was chief executive of Asda for five years before being appointed chairman in April last year.
He is credited with growing the supermarket's market share during the recession.
In an internal company memo, Wal-Mart boss Doug McMillon highlighted the "tremendous growth" at Asda during Mr Bond's time as chief executive.
He called him a "brilliant merchant, a strong leader and an effective manager".
Mr Bond said: "Asda is, and will always be, a part of who I am."
Former store manager Andy Clarke, who joined the company in 1992, took over from Mr Bond as chief executive.
"Asda is what it is today because of [Mr Bond's] leadership," he said.