US car sales confirm auto industry recovery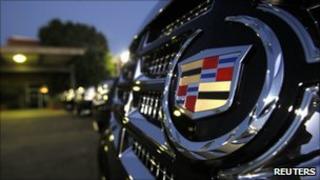 US carmakers have reported strong sales for December, confirming the auto industry's steady recovery during 2010.
Chrysler said sales for the month rose by 16% against a year earlier, while General Motors posted sales growth of 7.5%. Ford said sales rose by 7%.
Japan's Nissan fared even better, reporting US sales growth of 28%.
Most major carmakers reporting sales figures on Tuesday also posted strong rises in sales for the full year 2010 compared with the previous year.
Ford reported a jump of 19%, Chrysler an increase of 16%, while GM posted a rise of 6%.
The figures confirm a remarkable turnaround for the so-called Detroit three carmakers, two of which - Chrysler and GM - went into bankruptcy protection in 2009.
Other carmakers were equally upbeat.
"I think people are a lot more confident in making big purchases now. That's the story of the fourth quarter," said Ali Castignetti, head of Nissan sales in the US.
"I think we're going to see slow, steady growth."
Bail-out
Despite strong gains from Ford and Chrysler, GM retained its position as the US's top-selling carmaker, with sales of 2.2 million cars in 2010.
"Our sales this year reflect the impact of GM's new business model," said GM's vice-president of US sales Don Johnson.
"The consistency of results that we achieved demonstrates the focus on our brands, dealers and customers, and how we compete aggressively for every sale, every day."
In the summer of 2009, the company needed $50bn in government assistance as it went through bankruptcy protection. Following the bail-out, the government owned 61% of the company.
Comprehensive restructuring, including selling off a number of brands, has helped the carmaker to return to profitability.
It posted a net profit of $2bn (£1.2bn) in the three months to the end of September, its third consecutive quarter of profitability.
In November, GM raised $20.1bn through a public share offering - the largest share sale in the US to date.
This will allow the government to reduce its stake to as low as 33%.
Improving fortunes
Chrysler also went into bankruptcy protection in the summer of 2009 after being bailed out the by the government following a sales slump during the downturn, but it has struggled to return to profitability since.
In the third quarter of last year, the carmaker lost $84m, following a $172m loss in the previous three months. It has, however, forecast a profit for the full year 2010 of $700m.
Ford, which did not enter bankruptcy protection or take financial assistance from the government, made a profit of $1.7bn between July and September, its sixth consecutive quarterly profit.