US Federal Reserve to press on with QE2 stimulus plan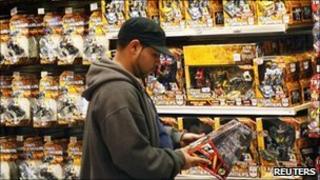 The Federal Reserve will continue with its $600bn (£385bn) stimulus programme as it is not convinced by recent signs of a strengthening recovery in the US economy, meeting notes have revealed.
The Fed acknowledged the improving outlook, but said the programme - dubbed QE2 - would continue.
There had been some speculation that the Fed might scale back its stimulus measures given improved economic data.
Factory order figures, also released on Tuesday, showed a return to growth.
The commerce department said orders rose 0.7% in November, following a decline in October.
QE2 is the second round of quantative easing, the policy of creating money to pump into the economy to stimulate growth.
'Outlook improving'
The Fed minutes from its 14 December policy meeting revealed that "the pace and size of the overall purchase programme" would depend on the strength of the recovery.
"However, some members indicated that they had a fairly high threshold for making changes to the programme," the notes said.
"While the economic outlook was seen as improving, members generally felt that the change in outlook was not sufficient to warrant any adjustments."
The Fed pointed to the stubbornly high unemployment rate of almost 10%, and continued weakness in the housing market.
It also questioned the strength of consumer spending among poorer households.
"There were indications that retail spending by middle and lower-income households had risen less than spending by high-income households, suggestive of ongoing financial pressures on those of more modest means," the notes said.