Next says snow cost it £22m in lost sales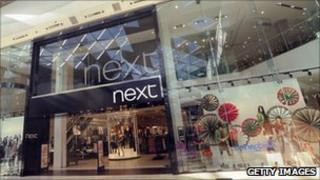 UK clothes retailer Next has said the December snow cost it £22m in Christmas sales, but profits remain on target.
Online sales enjoyed an initial boost from Christmas shoppers stranded at home, but then slumped amid fears the snow would delay deliveries.
Overall, store sales for the five months up to Christmas Eve were down 3.1% versus last year, the firm said, while online sales were up 8.7%.
That left the firm on course for annual profits of £540m-£555m.
This is in line with earlier guidance, and represents a 7%-10% rise on last year, said the company in its trading statement.
In the five months to 24 December, like-for-like sales - which cover sales at stores open for at least a year - were down 6.1%.
Price rises
Shares in the clothes chain rose 4% following the announcement, outperforming the market.
Next's trading update comes the same day that shares in HMV fell by a fifth after the music and book retailer revealed a 10% fall in Christmas sales, and warned it was struggling to meet the terms of a bank loan.
Next repeated an earlier warning that its prices were likely to rise by about 8% this year, due to the VAT rise, as well as "higher input prices" - notably the rising price of cotton.
It said it was too early to predict how raising its prices would affect demand, although the company already noted that discounting by its competitors had undercut its Christmas sales.
The retailer also expressed concern over the impact of government austerity on consumer spending, saying the outlook for the year was uncertain.