China backs Spain in new eurozone support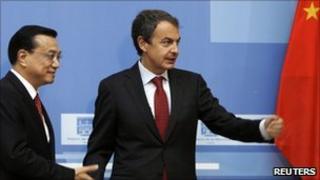 The Chinese Vice Premier has reaffirmed his country will buy Spanish government bonds, despite the recent crisis of market confidence over eurozone debt.
Li Keqiang, on a three day visit to the country, has also signed $7.5bn (£4.8bn, 5.7bn euros) of trade deals.
The key deal was ratification of a giant Brazilian oil sale from Spain's Repsol to China's Sinopec.
Others include exports of Spanish speciality products, such as cured ham and olive oil.
These last reflect the Chinese population's growing interest in Western-style food.
China's official Xinhua news agency reported Mr Li as saying that China, as a long-term and responsible player in the Spanish government bonds market, had increased its buying activities amid European debt concerns last year.
"We will buy more [Spanish government bonds] depending on market conditions," said Mr Li.
His comments on Spanish government bonds will be seized upon by those hoping that 2011 will not see a break-up of the eurozone.
Mr Li said in an opinion piece in the German daily Sueddeutsche Zeitung: "China's support of the EU's financial stabilisation measures and its help to certain countries in coping with the sovereign debt crisis are all conducive to promoting full economic recovery and steady growth."
Falling appetite
Mr Li is at the start of a European tour that will see him next visit Germany and then the UK.
China has the largest amount of foreign currency reserves in the world.
Falling investor appetite for government bonds issued by the weaker eurozone members forced Greece, and then Ireland, to obtain enormous outside support from their European partners and from the International Monetary Fund (IMF).
Although the debt crisis has subdued somewhat in the last month, the cost of borrowing in financial markets for many eurozone countries remains elevated.
Portugal - another country struck by the crisis but not yet in need of a bail-out - issued 500m euros (£425m ,$658m) of short-term debts on Wednesday at an interest rate of 3.7% - almost double what it had to pay when it issued similar treasury bills in September.
The Spanish government has promised to lower the public deficit from 11.1% of annual output in 2009 to the European Union limit of 3% by 2013.
Nonetheless, Spain's central and regional governments and its banks need to raise about 290 billion euros in gross debt in 2011, including rolling over existing bonds that expire.
Any fall in confidence and concurrent rise in interest rates would make that much harder to achieve - at worst it even raises the risk that Spain could need a bail-out itself, something that would take the EU's back-up fund to the brink.
Any EU or international bailout for Spain would be far bigger than anything seen to date in Europe - its economy is twice that of Greece, Ireland and Portugal combined.