Warning over mortgages and rent paid on credit cards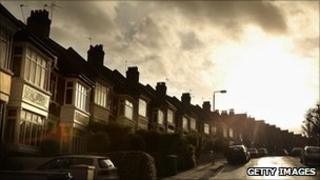 A growing number of people are paying rent or mortgages with money borrowed on a credit card, a charity says.
Shelter said that withdrawing cash on a credit card to pay housing costs was the "worst possible course of action" for householders.
Its findings are based on a survey of 2,202 people but lenders have pointed out that they would not accept credit cards for regular mortgage payments.
Bank of England figures show unsecured lending has been flat in the last year.
Rent payments
The poll asked British people if they had borrowed money on their credit card to pay rent or mortgage payments in the past 12 months.
Some 6% of respondents said they had done so, which the charity said was a rise on a similar poll a year ago and would equate to more than two million people.
Last year's survey calculated the number of households, rather than individuals, that fell into this category. However, the figure for households has not been calculated this year.
A spokesman for the Council of Mortgage Lenders (CML) said the vast majority of cases would relate to rent payments, as regular mortgage payments were deducted from bank accounts rather than from credit cards.
A report, commissioned by the CML and published in November, also concluded that a small proportion of householders used credit cards to pay mortgages.
"Some 11% have used a credit card to pay their bills at some point. Despite recent sensationalist news headlines, only 2% of mortgagors have ever paid their mortgage on a credit card, with half of these paying off the balance at the end of the month," the report said.
Shelter said that there was anecdotal evidence of people withdrawing cash on their credit card - which costs a relatively high level of interest - which is then used to pay housing costs.
Some landlords and housing associations had accepted credit card payments in the past, a Shelter spokeswoman said.
Seek advice
Figures from the Bank of England during the last year have shown that unsecured credit - including credit cards, personal loans and overdrafts - has been stagnant.
Consumers safety-first policy in the current economic climate has meant repayments have often matched new borrowing.
The relatively low number of people using credit to pay for housing costs would make little impression on this overall figure. Shelter urged those people to urgently seek expert advice.
"Using credit cards to pay the rent or mortgage is simply robbing Peter to pay Paul. With the average credit card interest rate now standing at over 16% it is the worst possible course of action," said Campbell Robb, chief executive of Shelter.
"Already someone faces the nightmare of losing their home every two minutes, and we would urge every single one of these people now relying on credit to keep their home to seek advice urgently."