Starbucks drops its name and the word coffee from logo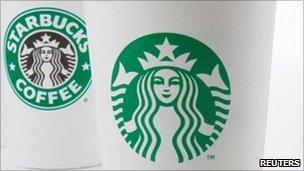 Starbucks, the world's largest chain of coffee shops, has unveiled a new logo which it says indicates its intention to move beyond its core product.
The US giant's new logo does away with the words "Starbucks" and "coffee", leaving just the firm's white on green image of a twin-tailed siren.
Starbucks said that in the future "it's possible we'll have other products with our name on it and no coffee in it".
However, some brand experts have criticised the move.
"I think it's nuts," said James Gregory, chief executive of brand consulting firm Core Brand.
"What's it going to be - the coffee formerly known as Starbucks?"
Starbucks is already moving ahead with plans to extend its product range, and now also sells ice-cream.
It is also considering selling beer and wine at some US outlets.
Starbucks chief executive Howard Schultz said: "What is really important here is an evolutionary refinement of the logo, which is a mirror image of the strategy.
"This is not just, let's wake up one day and change our logo."
Starbucks has turned around its fortunes since 2008, when over-expansion resulted in falling sales.
Its profits for the first three-quarters of 2010 were more than double those in 2009.
This is the first time that Starbucks has changed its logo since it floated on the New York Stock Exchange in 1992.
Related Internet Links
The BBC is not responsible for the content of external sites.