Australian floods to hit coal production for 'months'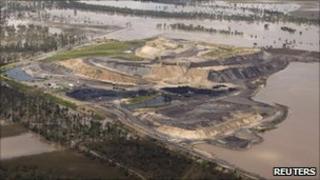 It will be "some months" until coal mines affected by floods in Queensland are fully operation, the state's mining minister Stephen Robertson has said.
Operators of about 40 mines have been affected by the floods.
Queensland produces mostly coking coal used for steel making, but also produces thermal coal used in power stations.
And there are concerns the floods will see the price of coal rising - pushing up the cost of steel and electricity.
However, Mr Robertson tried to play down those concerns.
"You'll see a jump in spot prices but for our major market predominately long-term contracts are in existence at fixed prices," he told the BBC's World Business News.
"So one would not expect to see significant long-term price impacts, but there will be a spike in the short term, one would expect."
Coal worth about 100m Australian dollars (£64m; $99.7m) was usually shipped out of Queensland ports every day, he said.
"Every day that those ports are not working to capacity it's not just a hit on the coal companies themselves but on the economy of Queensland more generally because we extract significant royalties from the mining of coal," he said.
"It's going to take some months to come back fully online.
"At the present time about 40 mines are affected and, whilst they have authorisation to start pumping some water out into nearby rivers and creeks, it's going to take some time before those mines get back to full production.
"It's hoped those mines will recover and start producing coals and minerals in the next few weeks but of course if it keeps raining that might be extended."
The Queensland floods have led to the temporary closure of mines that account for 8% of global thermal coal exports, ANZ Bank analyst Mark Pervan has said.
Mines with an annual capacity of 57.3 million tonnes of thermal coal have either declared force majeure or have reduced production because of the rains, he added.
Sites operated by Rio Tinto, Xstrata and Vale are among those to have been affected.