British Airways says bad weather could cost it £50m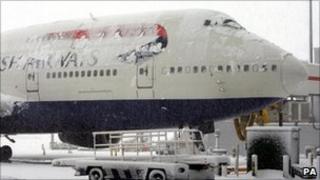 British Airways (BA) says that the disruption caused by December's severe weather could cost it £50m.
Monthly traffic was down by 8.3% compared with a year ago, as operations were hit by the snow and ice.
The conditions caused hundreds of BA flights to be cancelled, with many UK, European and North American airports, suffering closures.
Separately, BA confirmed its order for Rolls-Royce engines for its Airbus A380 planes on order.
The contract, initially announced in 2007, could be worth more $5bn (£3.2bn), Rolls-Royce said.
The confirmation comes after a Rolls-Royce engine on a Qantas A380 exploded last month, forcing an emergency landing in Singapore.
'Additional impact'
BA also reported that cargo volumes fell by 10.9% in December.
The airline said the number of passengers carried in December fell to 2.1 million from 2.4 million in December 2009, after airport closures and fight cancellations meant it had 12% less capacity.
It added there would be some "small additional impact" in January from cancelled return journeys.
The potential £50m bill will be a blow to the airline which recorded its first half-yearly profit in two years during the six months to the end of September.
However, the impact is less than £108m costs incurred when flights were grounded by the ash cloud emanating from an Icelandic volcano last year.
And a series of strikes by cabin crew last summer cost it about £142m.
Meanwhile, Ryanair said that it had carried 2% more passengers in December from a year earlier.
Its load factor - a measure of how full its planes were - slipped from 81% to 80%.