JD Sports sees 2.5% rise in Christmas sales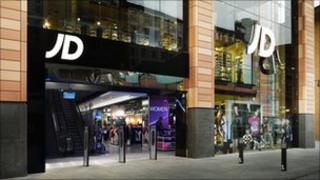 Retailer JD Sports Fashion said it had shrugged off the winter weather to boost sales during Christmas trading.
The group, whose operations include 350 JD Sports and Size outlets, said like-for-like sales were up by 2.5% in the five weeks to 1 January.
It was now set to beat City pre-tax profit forecasts of £75.4m for the current financial year, it added.
But the group warned that the VAT rise and an inflation-driven increase in costs meant tough conditions in 2011.
Executive chairman Peter Cowgill said Christmas trading had been "pleasing", praising staff who "ensured that we were largely unaffected over the full five week period by the difficult weather conditions experienced in December".
While many competitors had been discounting heavily, JD Sport added it had grown sales without reducing its profit margin.
However, Mr Cowgill said: "The trading environment facing all retailers, and perhaps clothing retailers in particular, will provide additional challenges in the year to come."
Singer Capital Markets analyst Mark Photiades said the group's performance was a "superb achievement".
JD Sports' upbeat Christmas trading figures are in contrast to several other High Street retailers, such as Next, HMV, Mothercare and Clinton Cards, which have all blamed the freezing weather for playing a part in falling sales.
The group trades as JD Sports, Chausport, Size, Bank and Scotts from more than 530 stores.