Borrowers face higher interest rate shock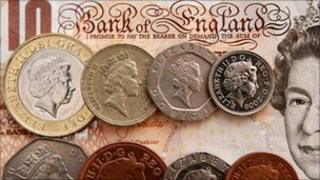 More borrowers could find they will be charged higher than the advertised rate of interest for a personal loan under new rules.
At present, at least two-thirds of successful applicants for loans should get the advertised rate following a promotion.
Under European rules coming into force in the UK on 1 February, this will fall to 51% of successful applicants.
However, borrowers should also be given more details about credit agreements.
Rules
The change of rules comes from the incorporation of the European Consumer Credit Directive into UK law.
The revised rules will stipulate that an advert for any form of credit should make it clear what will be charged in interest.
The annual percentage rate (APR) that is quoted on the advert must reflect at least 51% of business expected to result from the advert, the new rules stipulate.
"With three million people expected to apply for a personal loan in 2011, it is vitally important to understand your credit file before you apply," said Tim Moss, of price comparison website Moneysupermarket.com.
"Otherwise you may find yourself being rejected, or accepted but offered a rate higher than you expected.
Under the current rules, for every 100 people who apply for a loan in the UK, only 30 are accepted, and of those only 20 receive the rate advertised. From 1 February, this will fall to just 15 people."
Safety
The rules are aimed to ensure that lenders are responsible and offer loans only to people who have a chance of paying them back.
Lenders must tell borrowers, often verbally, exactly what will happen if people fail to make their regular repayments.
"Creditors must ensure that the borrower is provided with an adequate explanation of the proposed credit agreement," said guidance on the new rules by the Department for Business.
"For example, the particular features of the agreements, the cost and the consequences of failure to make payments [should be explained], to enable him to assess whether the agreement is suited to his needs and financial situation."
They lender must also explain why people have been turned down for a loan because of any black marks found on their credit file.
Demand for loans and overdrafts has been subdued during the last year, according to figures from the Bank of England, as borrowers remain safe during economically uncertain times.
Separate new voluntary rules introduced at the start of the year have given credit card borrowers more leniency over repayments.
Card providers will have to give 60 days' notice of an interest rate increase. Customers will have the right to reject the increase, hand in their cards and pay off their debt at the old rate.
They will also be able to pay off the most expensive debt on their card first.