Your money: is it time to play FTSE in 2011?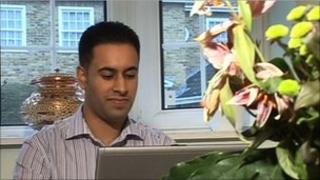 The FTSE 100 leapt almost 2% in its first day of trading this year.
On Tuesday 4 January the UK's index of leading shares soared 115 points, adding to the 9% gain over the course of 2010.
However experts remain divided on the outlook for shares in 2011.
With inflation and austerity cuts in the UK, and continued problems in the global economy, seasoned analysts cannot agree on how the market will perform this year.
Do it yourself
With the experts divided, some private investors prefer to make their own investment decisions and buy and sell shares themselves from home.
Dev Chana manages his own portfolio of investments from his house in Maidenhead in Berkshire.
He said the process of buying and selling shares could not be easier.
"I use one of the banks' pieces of software; you just download it to your computer and sometimes you don't even need to do that because you can do it online," he explained.
"Then you look at a couple of graphs, click a couple of buttons and put in a few numbers and press go and you could then have bought stock in a bank or a retailer, for example.
"It's all done for a couple of pounds or for a small percentage of what you have traded," Mr Chana said.
Bearish
Manoj Ladwa, senior trader at ETX Capital, a financial spread betting firm, thinks investors who bet on the stock market now will end up with less in 12 months time.
"For the first half of this year I'm cautiously optimistic but for the second half I turn pessimistic," he said.
He thinks the 100 share index could fall to 5,500 before the end of the year.
"We've got austerity packages kicking in, public sector unemployment and questions over whether the private sector will take up the slack," he says.
"Then there's the possibility of high inflation leading to interest rates going up - this is all likely to weigh on the equity market," he adds.
Bullish
David Buik, market analyst at city firm BGC Partners, is more upbeat about the prospects for investors in the year ahead.
"I can see the FTSE easily getting to 7,000, however I am not contemptuous of the austerity measures and I think it will go down to 6,400 by the end of the year," he said.
"Why equities are the most attractive asset on the street at the moment is because all the other alternatives are unattractive," he says.
He points out that in the past couple of years some companies have maintained or even increased their profitability.
"They are paying very good dividends, way above what you would get from leaving your money in the bank," he says.
Fear
No matter how strong markets have been recently, many would-be investors are still haunted by the financial crisis of just a few years ago.
That saw the FTSE 100 lose almost half its value between May 2008 and March 2009.
Continuing volatility in the markets means saving accounts remain a favourite place to leave money for many ordinary people.
That is despite the fact that even the best savings bond earned less than 3% on average in 2010, compared with the 9% gain made by the FTSE.
Experts' warnings that "the value of your investments can go down as well as up" are a painful reminder of a hard couple of years for those who played the stock market - and lost.
Time to play FTSE?
Dev Chana acknowledges he will not become rich from his trading, but with money to invest he reckons it is still a better approach than putting it away in a savings account.
"I'm not making any money on my bank account because interest rates are so low so why not put it into shares?" he says.
"Even a 5% gain is far better than any bank is going to give you."
He does accept though that amateur investors like him are at a disadvantage to the professionals.
"I look at general trends and historic trends and what the stock has done over the last couple of months or couple of years, but you don't have the knowledge and insight that the banks will have," he says.
"But that doesn't mean you shouldn't do the best you possibly can."