Drivers in 'mystery accidents' battle to clear names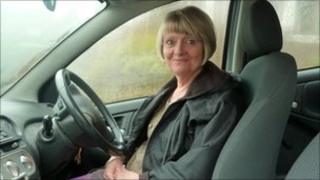 Drivers who are notified of accidents in which they were not involved say they are being given insufficient help by their insurers to clear their names.
Misidentification can happen as a result of licence plates being written down incorrectly or even as part of a fraudulent claim.
Radio 4's Money Box programme has heard of several cases stretching out over months with no evidence being offered.
Insurers say they work hard to clear up such cases as quickly as possible.
Accident mystery
Pamela Westcott from Kent was worried when her insurer, Prudential, said it had been notified that she had been involved in a car accident in June.
She was given the time and date of when it was supposed to have happened, and she remembered she had been in her car at the time.
"I was driving, I was out shopping, but there was nothing as far as I was concerned, no incident whatsoever."
Pamela wanted to know where this alleged accident had happened and what damage had been done to the other car, as nothing had happened to hers.
After four months had gone by, she had still not been told, and so she assumed the case had been shelved.
Details witheld
Then she got another unwelcome surprise:
"They said they couldn't write it off because there were witnesses to the event. My reaction was: 'witnesses to what?'"
"I can't understand why they can't give me more information, why they aren't trying harder to find out what happened."
More than six months on she still had not been told, until Money Box contacted Prudential.
It said as no evidence of Pam's involvement had been forthcoming, it was now finally closing the case.
A spokesperson for Prudential said:
"We sympathise with Ms Westcott's frustration with the length of time taken to close this claim. Despite requests to the other party's insurer, we were not given any detail about the accident, and so were unable to contradict any evidence.
"We have written to Ms Westcott to confirm that her premium was not affected by this claim when she renewed her policy, and that the other insurer has now accepted full liability for the claim."
Even if Pamela had been told details of the accident, it would not necessarily have helped clear the case up quickly.
Liz Tunmer from Brighton was notified of an accident she was alleged to have been involved in at her local supermarket car park in August.
"The driver had returned to her car to find it damaged and to find a note on her windscreen which had on it my registration," she said.
Liz knew she had not caused an accident, and even asked the supermarket to look at its CCTV footage to back her up.
Poor communication
She says it could not find evidence of one either.
Liz told her insurer Endsleigh but several weeks later she was contacted directly by Aviva, which provides Endsleigh's insurance, which told her she may also be facing a personal injury claim:
"There followed many many weeks of phone calls not returned, e mails not sent by them, me continuously harassing them to find out what was happening."
After many more calls and e mails Liz finally discovered in October that the case had apparently been closed, but she says no one bothered to notify her until she asked.
Then, when she came to renew her insurance the next month, she discovered that the case was still on her file and was likely to affect her premium.
Liz is angry because she feels her insurer was too ready to leave it to her to clear her name:
"I thought that paying a premium for my insurance meant any instance such as this would be dealt with by them."
In the end the case was closed, when the other party withdrew the claim and that Liz was able to renew her insurance without her premium being affected.
Aviva has apologised to Liz for its handling of her case: "We are sorry that this mistake happened and that Mrs Tunmer was not updated as regularly as she should have been during the claim process. In this instance, the handling of the claim fell below our usual standards."
Customer commitment
Endsleigh says it appreciated that Liz had experienced a period of uncertainty, but incidents like this were uncommon.
"As an insurance provider we are committed to working with our customers wherever we can.
"As we did with Mrs Tunmer, we will ensure that we represent our customers for as long as our partner relationships allow and even then, we will continue to work behind the scenes on our customer's behalf."
Like Liz, Pamela is worried what sort of affect this could have on her premium.
Disclosure important
Malcolm Tarling from the Association of British Insurers says drivers should mention this sort of allegation if they change insurer, but if they are not fault they should not be penalised: "If someone has been misidentified as being involved in an accident and it's subsequently been shown they were not involved, that's not something that will worry a new insurer."
The ABI admits these sorts of allegations are not normally shared between insurers.
It advises drivers who receive this sort of notification to check their vehicle carefully to see if there is any evidence of damage.
BBC Radio 4's Money Box is broadcast on Saturdays at 1200 BST, and repeated on Sundays at 2100 BST.