Morrisons sees Christmas sales rise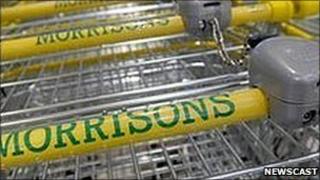 The UK's fourth biggest grocer, Morrisons, has seen festive sales rise despite the icy weather.
The Bradford-based firm said like-for-like sales excluding petrol and VAT in the six-week period over Christmas and New Year grew by 1% on the year before.
Morrisons' chief executive Dalton Philips said it had been "a good performance in a tough market".
However, retailer Debenhams said the weather conditions had cut its like-for-like sales by 2.5-3%.
Weather issues
The sales increase at Morrisons was slightly higher than analysts had expected.
"I am very pleased with the way the whole business has risen to the twin challenges of a difficult consumer environment and prolonged spell of adverse weather," Mr Philips said.
He also told the BBC Radio 4 Today programme that the firm had seen a change in customer shopping patterns because of the weather.
He said that rather than coming in on the traditional biggest shopping day of 23 December, people had been visiting stores "three to four days before Christmas".
They had also been making larger shopping purchases than usual.
Ocado boost
Department store group Debenhams said that, for the 19 weeks to 8 January, group like-for-like sales had increased by 0.3% including VAT and decreased by 1.3% excluding VAT.
Chief executive Rob Templeman said the group's performance had been "pleasing" in the wake of the disruption caused by the widespread cold weather.
He said the severe weather had cut the retailer's group's like-for-like sales by 2.5-3% over the 19 week period.
Meanwhile, food home delivery company Ocado reported a rise in sales. It said gross sales during Christmas week had reached £12.3m, up 43.5% from 2009.
In the four trading weeks to 26 December, Ocado's gross sales were £50.9m, up 26.7% from 2009.