Portugal bond yields hit new high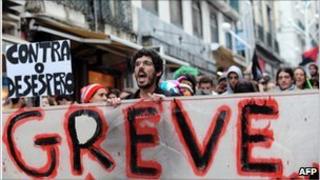 The interest rate Portugal must pay to borrow funds hit a fresh high on Monday, as speculation mounted it would join Greece and the Irish Republic in needing an international bail-out.
The yield on 10-year Portuguese government bonds rose for the fourth consecutive day, hitting 7.16%.
The country's borrowing costs have surged as investors worried over its financial health.
However, Portugal has continued to maintain it does not need rescuing.
Lisbon argues its situation is different from Greece and the Republic of Ireland - both of which have agreed to bail-outs from the European Union and International Monetary Fund.
It says that its deficit and debt are lower than those nations, that it has not suffered a bubble in property prices and that its banks are sound.
And the European Commission said that there were no discussions under way on an EU-International Monetary Fund bail-out of Portugal.
'Pressure'
On Wednesday, the country is aiming to raise 1.25bn euros (£1.04bn) by auctioning off government debt.
The auction will be closely watched as an indication of investor confidence, as markets look to see how easily - or otherwise - the debt-stricken nation can raise funds.
Investors are concerned that Portugal will have to offer very high interest rates to attract lenders.
The rise in the bond yield came after Germany's Der Spiegel reported that both France and Germany were putting pressure on Portugal to access European rescue funds, in an effort to stop the crisis from spreading to Spain.
Analysts believe that while Europe could support Portugal, a bail-out of Spain would stretch the existing bailout fund.
However, a German government spokesman said that Germany was "not pressuring anyone, and has not pressured anyone in the past", while the French government declined to comment.
Spanish finance minister Elena Salgado has backed Portugal, saying its neighbour would "not need any external aid".
"I think that Portugal will not need any bail-out, because it is meeting its targets. It has structural weaknesses, but it is carrying out the needed reforms," she added.
Greece was the first eurozone nation to take a bail-out when a three-year 110bn-euro deal was agreed.
The Irish Republic's 85bn-euro bail-out package was agreed last month.